On Friday, 4th June, UGC Senior Men's Section organised their Annual Seniors' Memorial Trophy in a Texas Scramble format. This was in memory of former players who are no longer with us.
The Competition was an "All Day" event, open to Men, Ladies, Seniors & Juniors. 15 Teams (60 Players) entered.
The sun shone and the Course was in excellent condition. Many thanks for the work done by the greenstaff and volunteers.
Also many thanks to Dawn, Amber & Carl. Finally to Adam for helping to arrange the event (including explaining the new WHS handicapping process) and processing the Scorecards.
There were Prizes for 1st (inc Trophy) & 2nd and the first three places were:
1st    Trevor Heath, Peter Kennard, Clive
Barningham & Jim Preston 51.2 (£24.12
each).
2nd   Ian Ainsworth, Roger Lugg, Alan Taylor &
Brian Whittle  52.2 (£16.08 each).
3rd   Alan Kyte, Linda Rowley, Andrew Mitchell &
Lindsay Walker 52.4
The money for 1st & 2nd places will be added to their golf pro-shop account and the Trophy will presented after one of the Seniors' Harold Wheatcroft Trophy days.
Robert Rock Junior Tour – 5th July 2020
Robert Rock European Tour Professional and Adam McCandless UGC Professional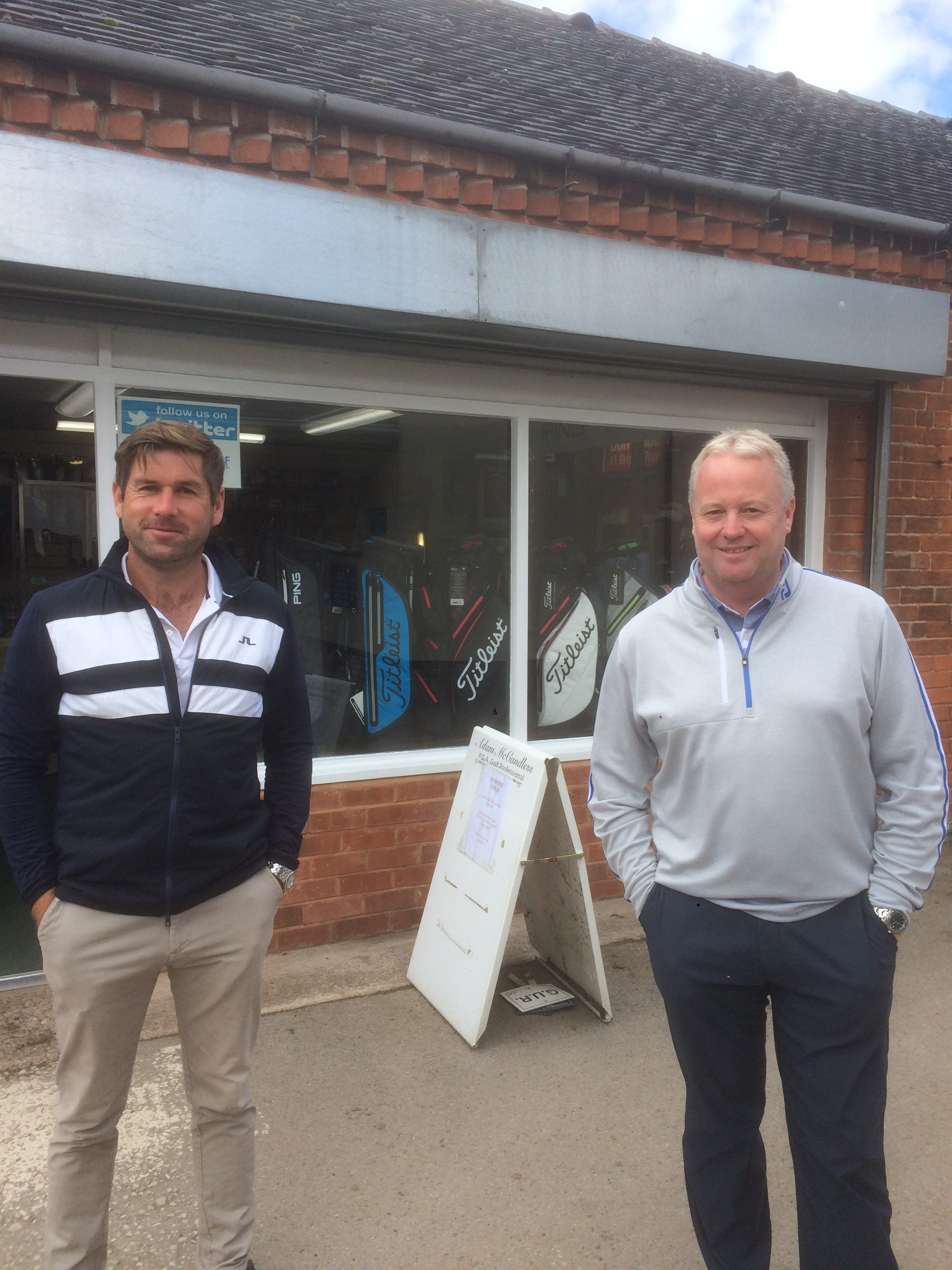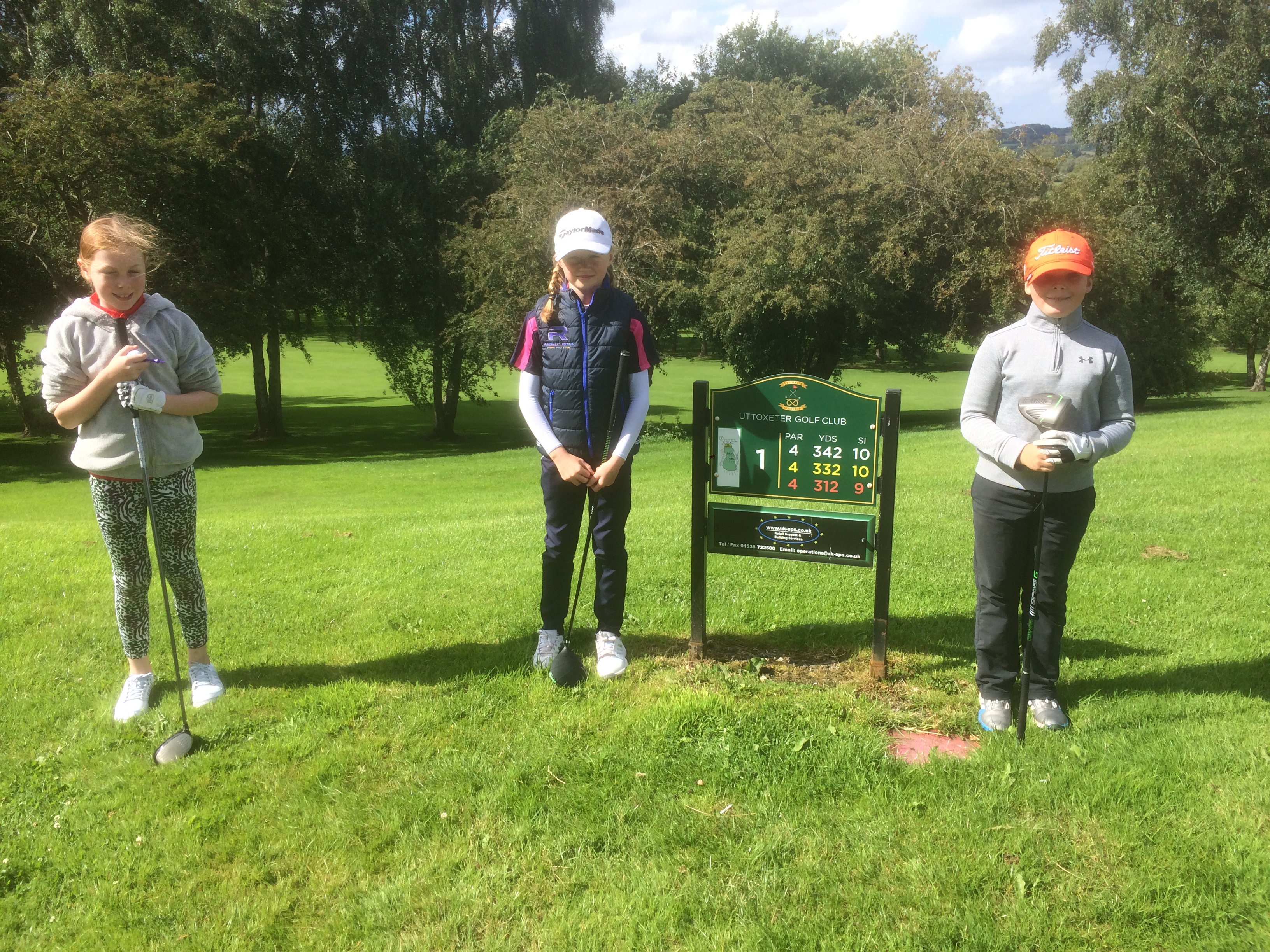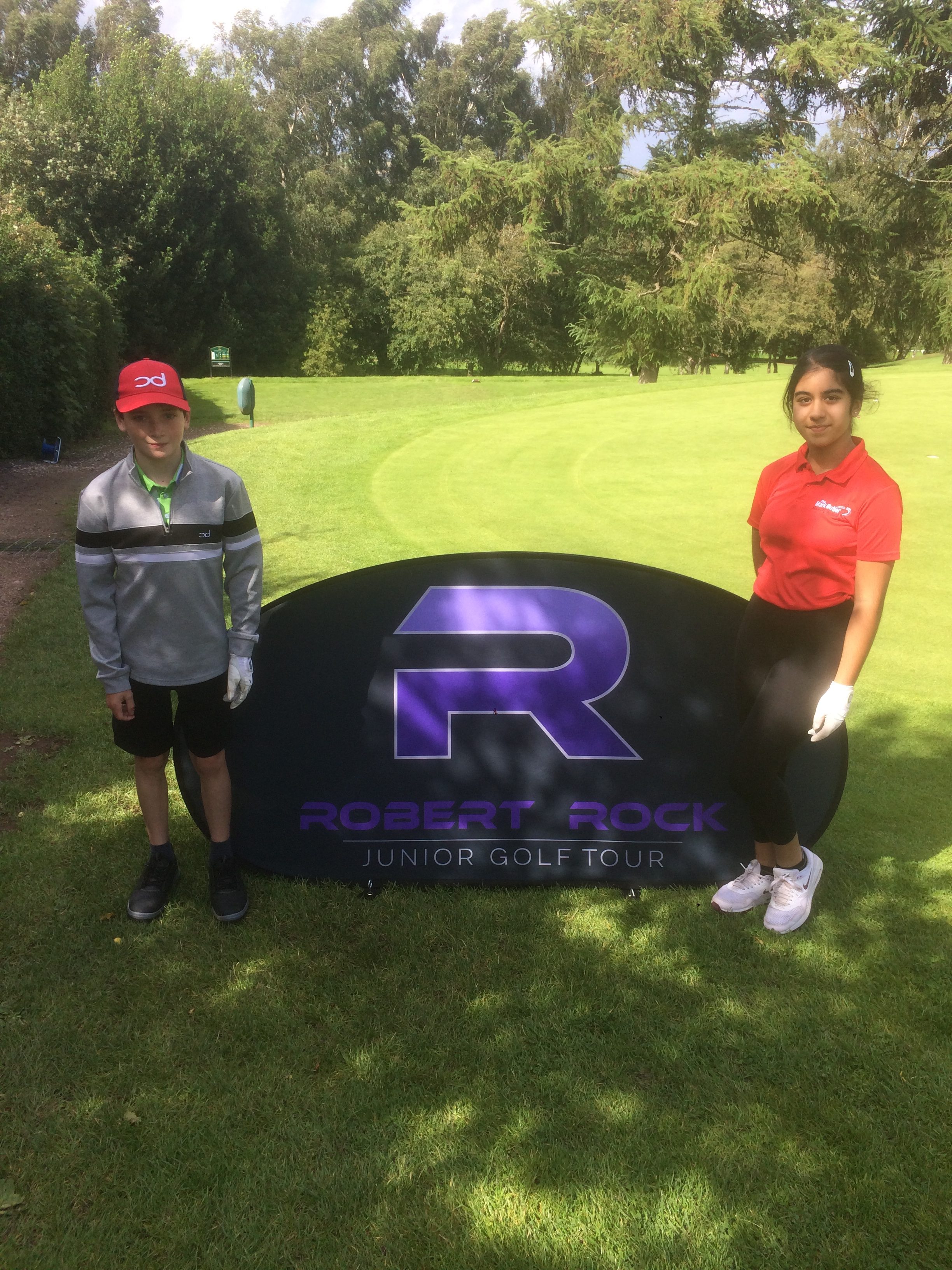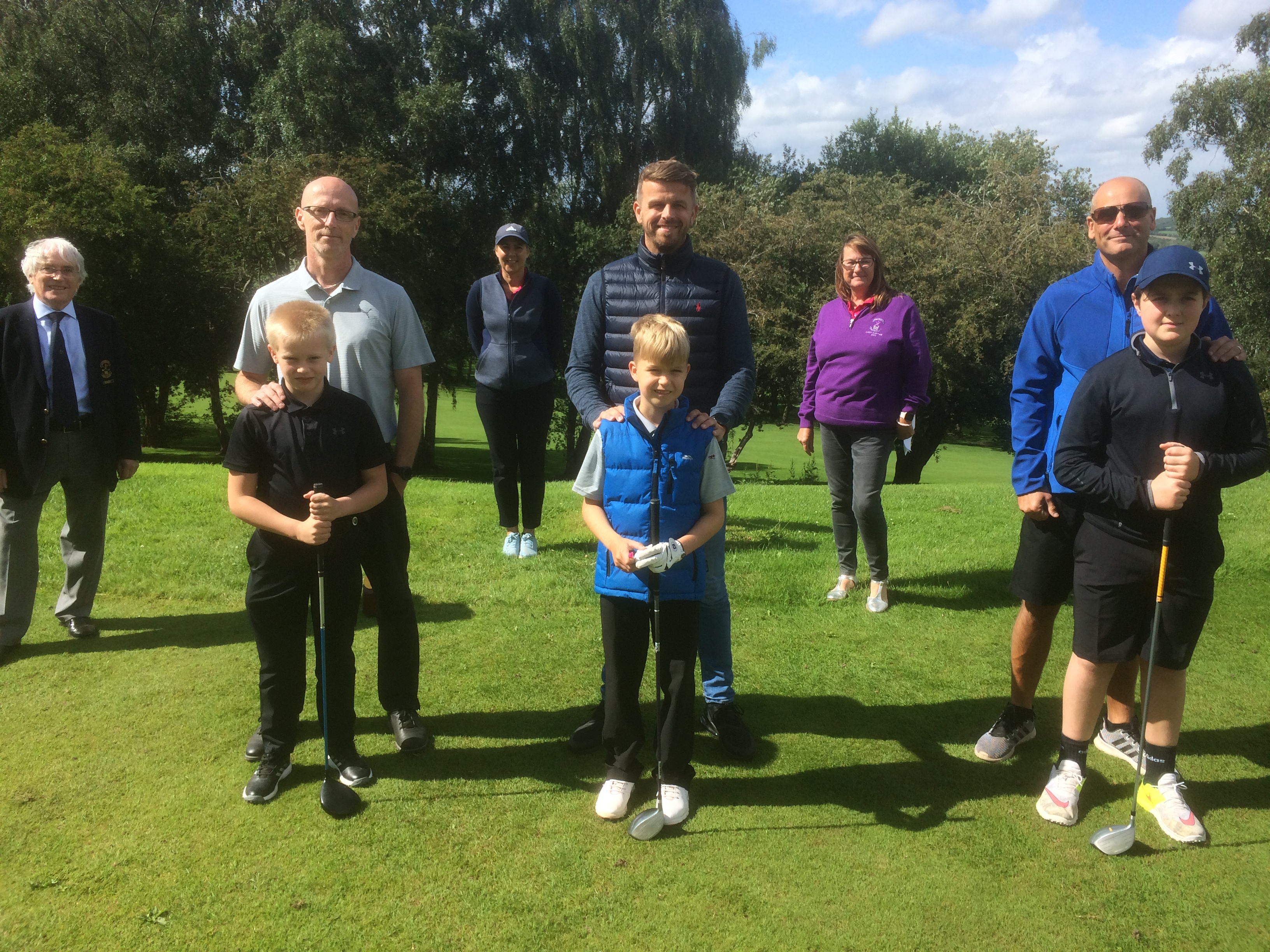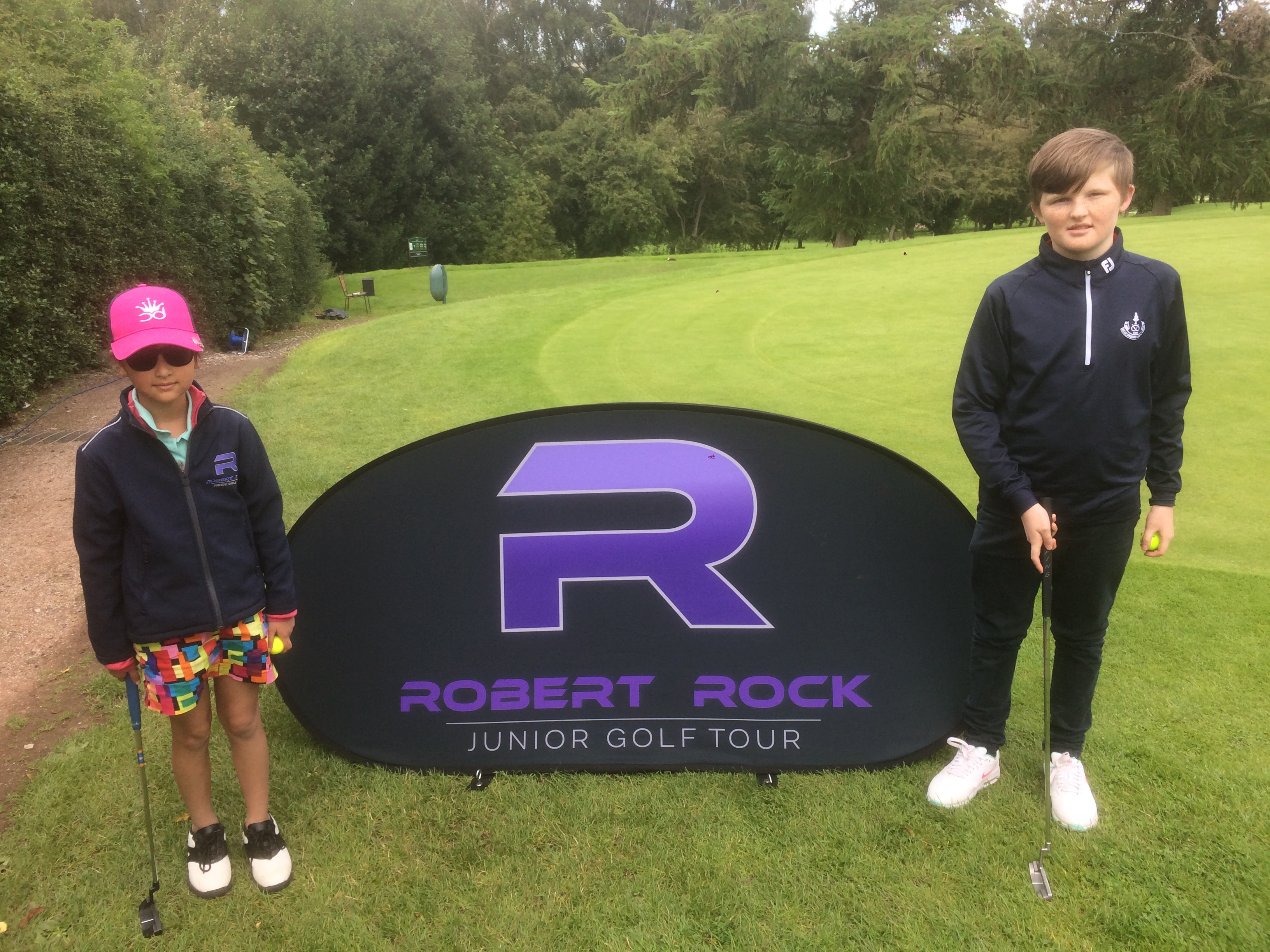 Bamburgh 2019 Tour….. members enjoying a "quiet" drink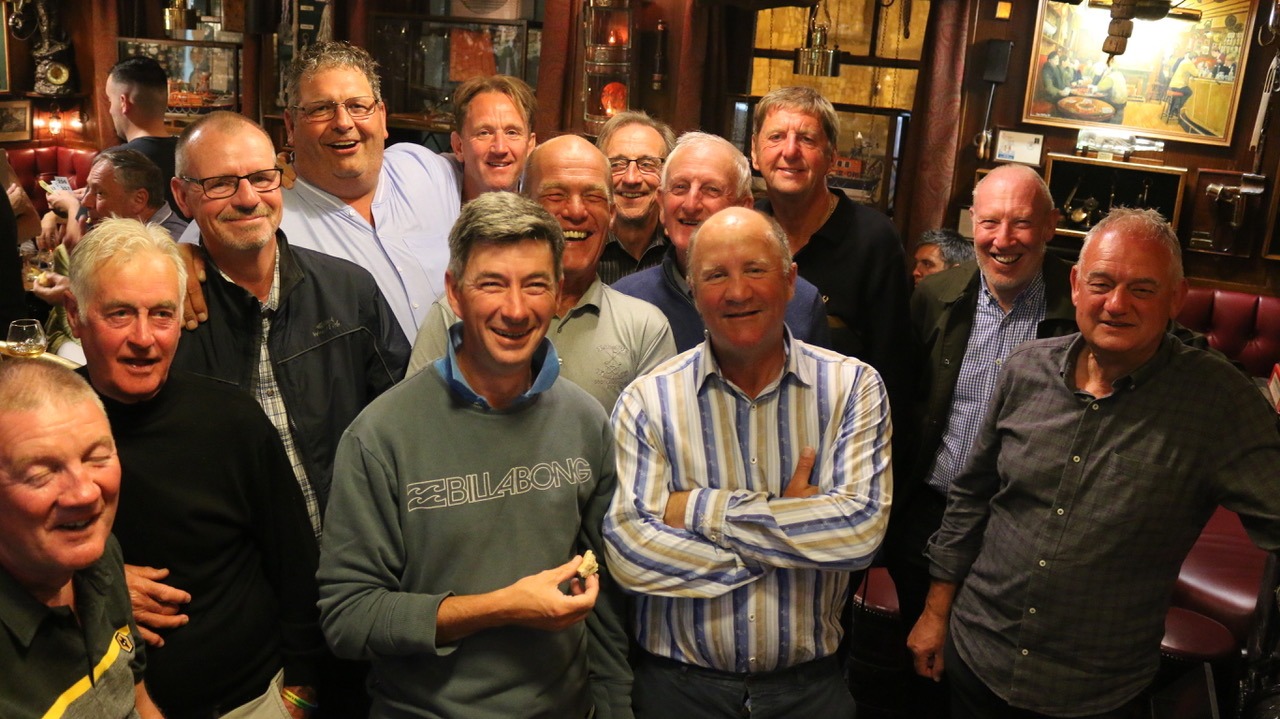 Glorious weather at Seahouses, and a refreshing beer after the round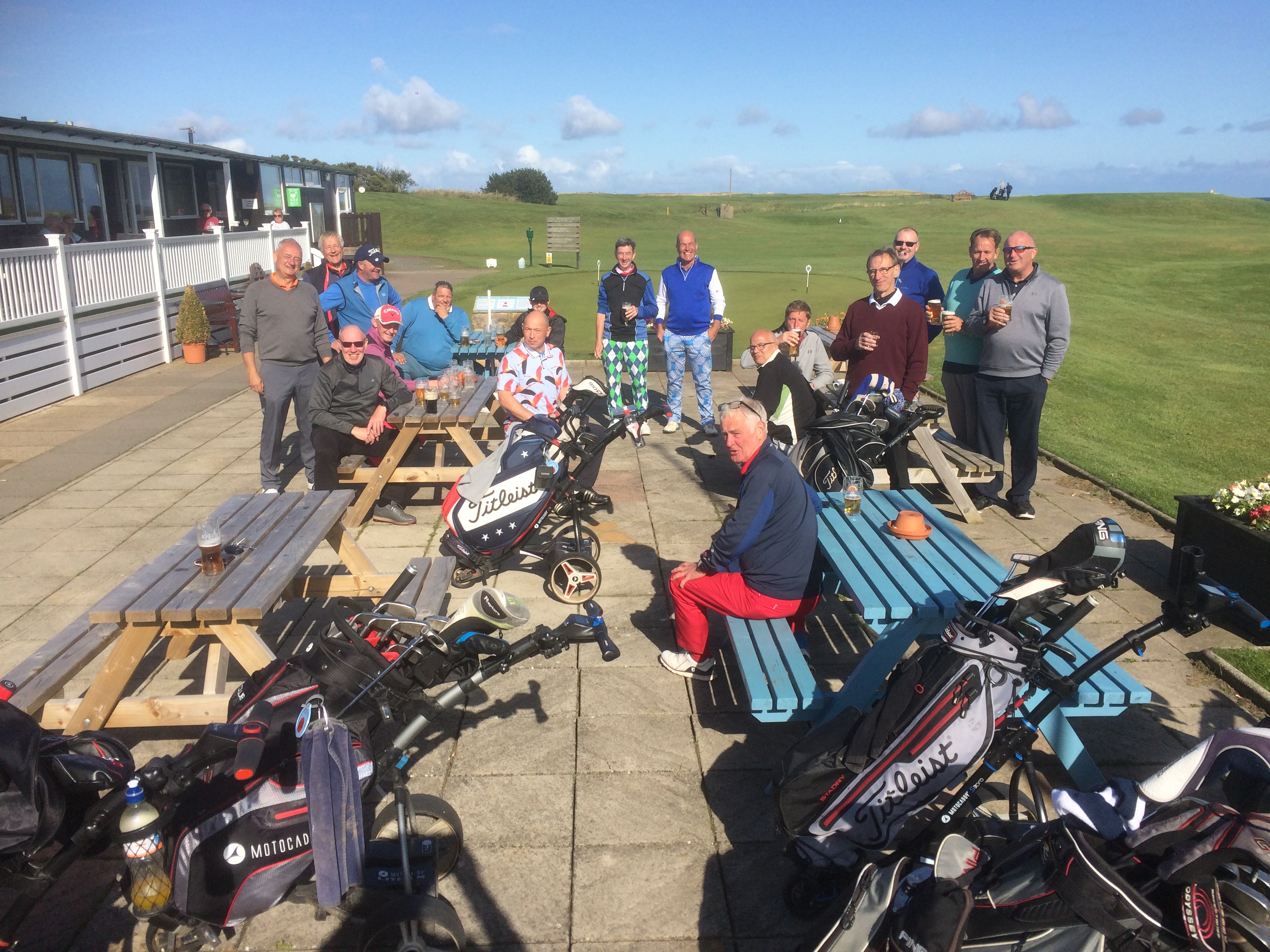 Gary Rowe, Kevin Barry, Bob Murray and Snr Captain Phil Stazaker on their travels in Cumbria, 2019.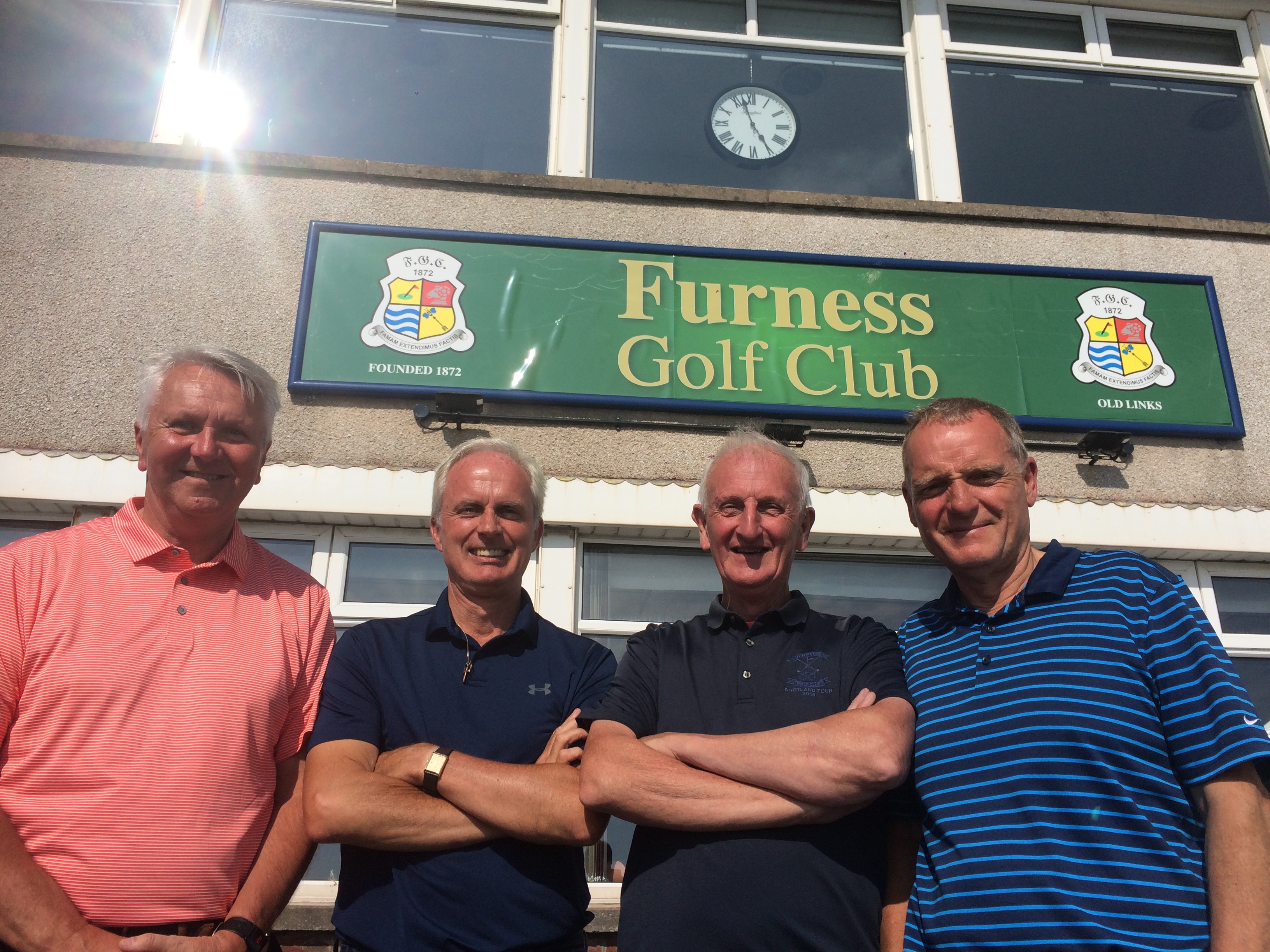 Our Seniors section play host to a team from Barrow in Furness in August 2019
Senior Captain Phil Stazaker embraces UGC Captain Stewart Murray and Furness Captain Stuart McAloone (both masquerading as seniors)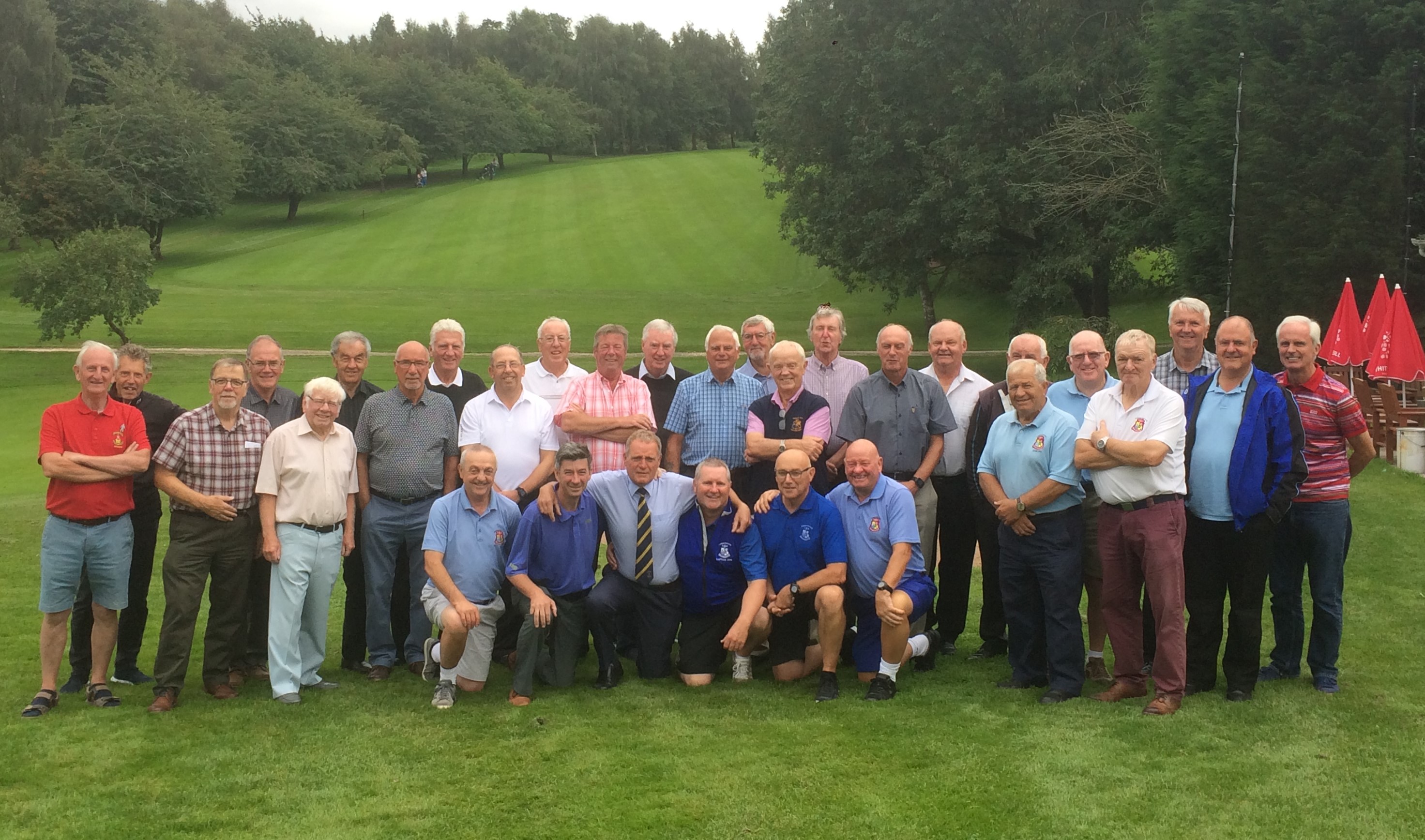 Ladies Bronze Team
Uttoxeter ladies Bronze Team are through to the final. Beating Beau Desert at Branston.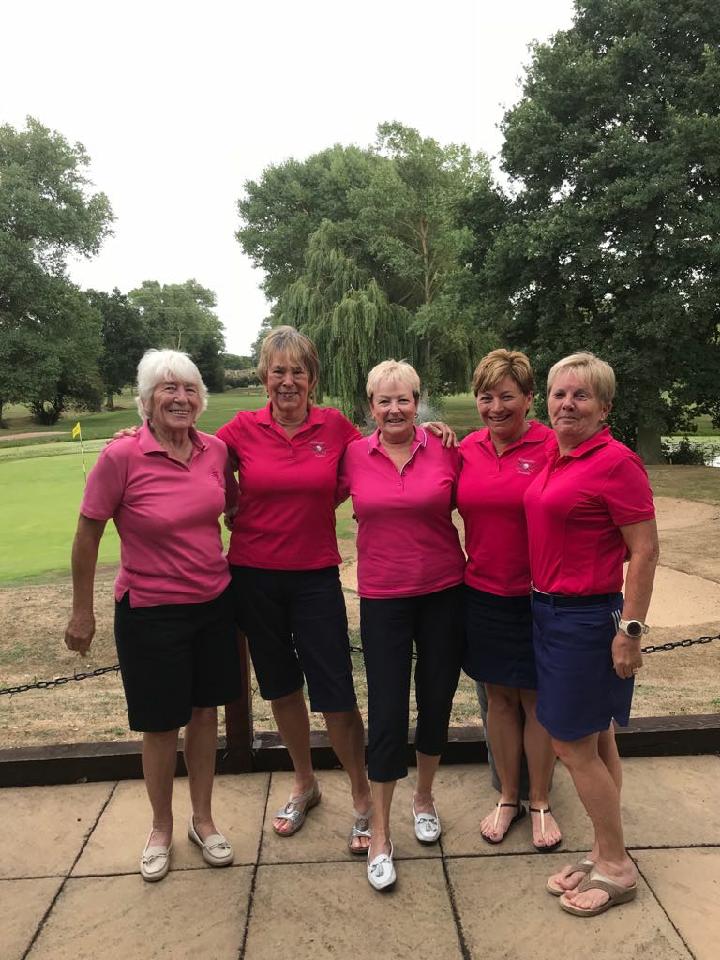 Coast To Coast
Pat Watson, a lady member of Uttoxeter Golf Club has completed the Wainwright Coast to Coast walk of 192miles, in support of the Captains Charity 2018 Teenage Cancer Trust. Captain Robin Upton and Lady Captain Jude Pearce wish to say a massive Thankyou to Pat, for completing this gruelling trek!! Many members of the club have kindly sponsored Pat, and their support is much appreciated. Well done Pat, your a star!! (for more pics from Pat's walk click here)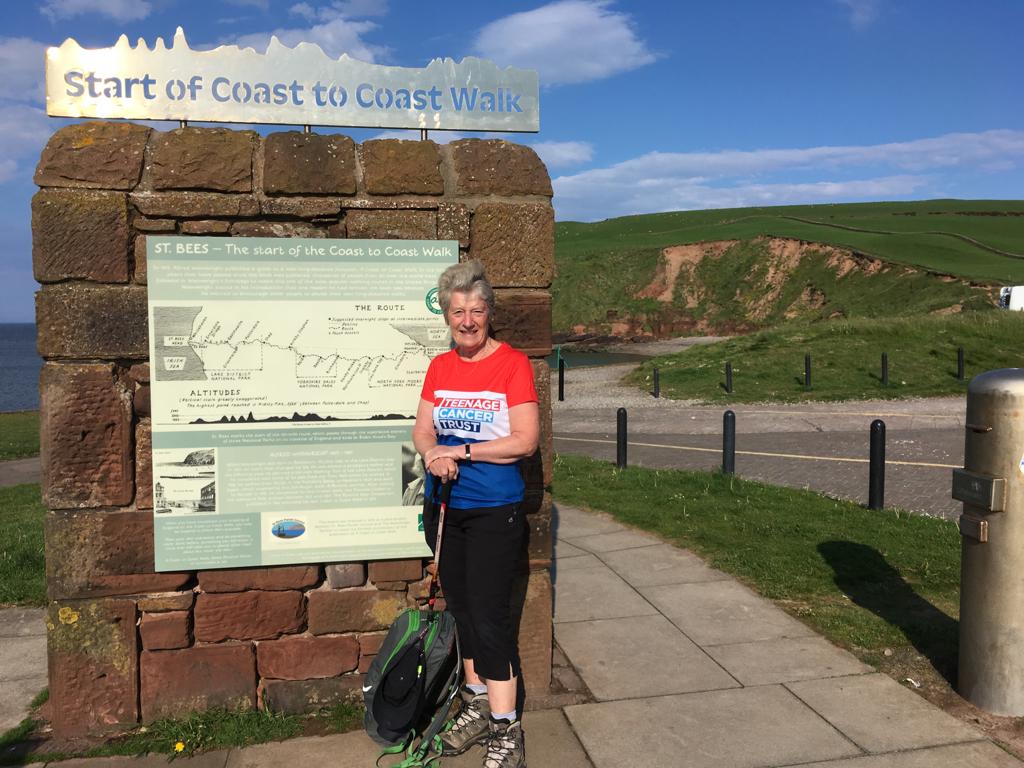 Senior trip to Furness GC.
Gary Rowe, Phil Stazaker, Bob Murray and Paul Davies recently played two days of golf at Furness 'Old Links' Golf Course in South Cumbria. Furness is the 6th oldest golf course and 3rd oldest links course in England, having been established in 1872. The second  day was their Senior's Pairs Open and the pairing of Phil and Bob finished 4th in the Competition, with 40pts, which had more than 80 pairs participating, primarily from the South Cumbria area. It was very windy on both days, but the second day had a constant 24mph westerly 'breeze', coming off the Irish Sea, with stronger gusts. The photo shows L to R:  Bob, Stuart (Club Vice Captain), Phil, John (Club President), Gary,  Roy (Club Secretary) Paul and Peter (Club Captain). Many thanks to Furness for a great couple of days and for creating an excellent Competition. A Seniors team from Furness is keen to come to Uttoxeter for an Inter-Club match and hopefully then a reciprocal visit by Uttoxeter Seniors to Furness could also be arranged. Watch the Senior's Noticeboard.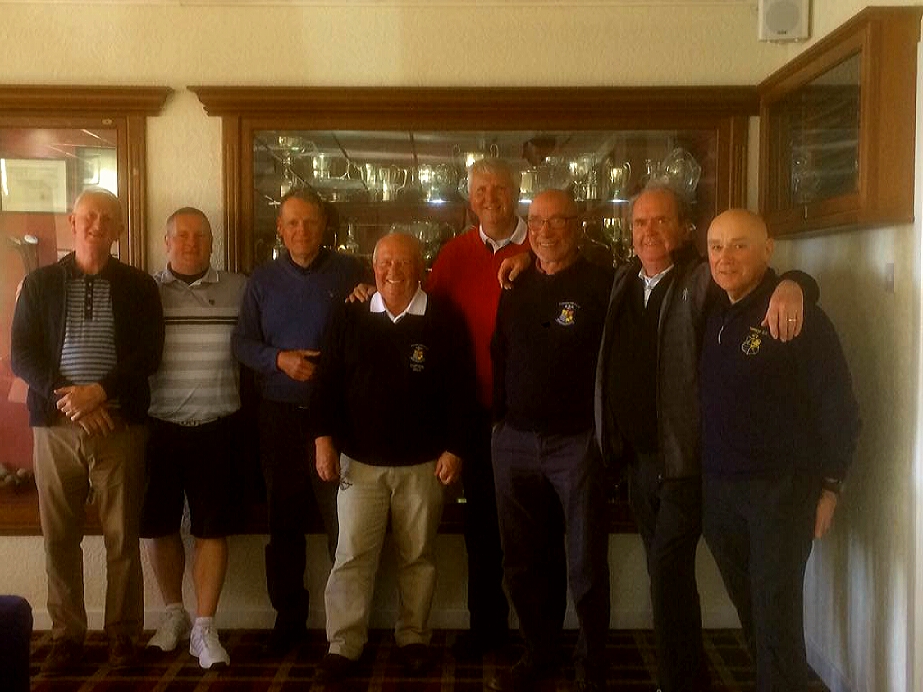 ———-
Katherine House Charity Day 2018
Uttoxeter ladies took the honours at Ingestre Golf Club in the Katherine House Hospice Charity Day. The team consisting of Jude Pearce, lady captain, Pat Watson. Louise Harper and Jennie Bostock claimed 1st place from a field of 42 teams from over 21 clubs.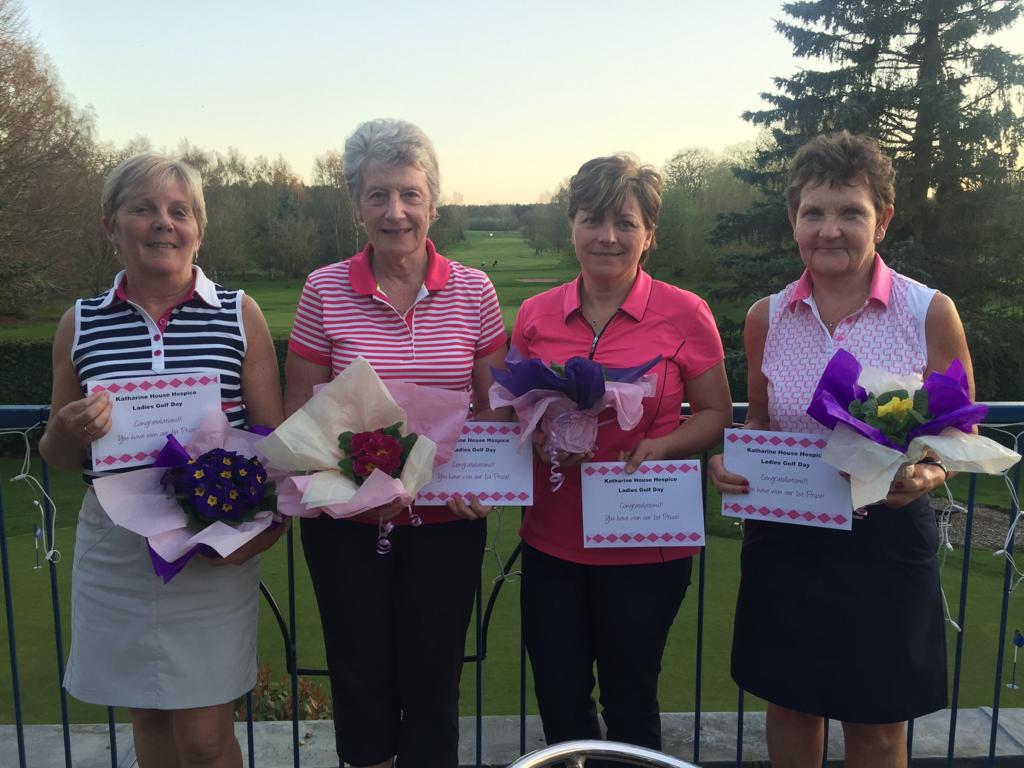 ————–
Uttoxeter Gents Star at Saunton
The Midlands Jamboree was held at Saunton Golf Club on 15/16 March 2018 comprising of seven teams of eight players from each of the counties of Warwickshire, Worcestershire and Staffordshire. In a tightly fought contest only 11 points separated the three teams with Warks and Staffs actually tied with 1448 point. However, Staffs took the honours based on the better scores on the second day. Pictured below the Uttoxeter Golf Club team consisting of (L-R) Norman Tweddle, Anthony Leatherbarrow, Ken Story, Mike Cleaver, Martyn Pearce, Alan Kyte, Wayne Moore & Stewart Murray.